It is said that the more things change, the more they say the same.  This is perhaps never more true than in May 1812. Britain was in turmoil. Social and political unrest spread had spread across the country, as old economic models clash with new technologies, and the spectre of global trade tariffs loom large. The country was locked in a bitter war with Europe, while in Downing Street an unpopular Tory prime minister, given the job after being judged a "safe pair of hands", battles an intransigent parliament and back-stabbing from vainglorious colleagues who refuse to serve in the government. But this isn't 2018. This is May 1812. And the prime minister is Spencer Perceval.
History is replete with glorious, infamous and outright waste-of-spaces in the office of 10 Downing Street and Spencer Perceval has long been forgotten about despite his unique claim to fame.
To be honest, Spencer was a pretty mediocre prime minister. He never did anything particular noteworthy as leader, he was a classic late Regency period Conservative whose archaic world of rotten boroughs and landed gentry would be swept away by the Victorian age and the Great Reform Act.
Spencer's rise to prime minister was unremarkably normal for the time, a "riches to riches" story, posh white guy easily becomes the most powerful person in the land. Like it or not, the story of Spencer Perceval is rather like our Hamilton. But he does have one claim to fame. Spencer Perceval is the only British leader ever to be killed in office.
At around 5 o'clock on the afternoon of May 11 1812 the Tory Prime Minister Spencer Perceval walked into the lobby of the Palace of Westminster for what would be the last time.
His family – he had six sons and six daughters with his wife, Jane – had begged him not to go to Parliament that day. Perhaps they had had some premonition of the horror to come.
But Perceval who if nothing else was a conscientious and deeply honourable man, felt that he had a duty to attend a debate being held in the House of Commons into the conduct of the government.
As he entered the lobby on his way to the chamber, his colleague Lord Osborne walking a few steps behind him, a man who had been sitting quietly next to a fireplace nearby suddenly stood up and approached Perceval.
When he neared him, the man reached into a pocket of his overcoat and whipped out a pistol. Before the startled Perceval had time to react, the man had shot him through the heart at point-blank range.
According to eyewitness accounts Perceval, a tiny man of five feet four inches, lurched forward a few steps, uttering 'Murder' or 'I am murdered' in a barely audible gasp. He then fell flat on his face at the feet of William Smith, the MP for Norwich, who had been speaking to a colleague nearby.
Smith later admitted that he did not recognise Perceval until he knelt down to help him. As the stricken prime minister lay there, a few convulsive sobs escaping from his mouth, blood seeped through his clothing and on to the floor. Seeing how seriously Perceval was hurt, Smith and another man picked him up and carried him to the Speaker's apartments.
Smith recalled at the inquest into Perceval's death: 'We set him on a table, he resting on our arms. I think he was not only speechless, but perfectly senseless, and blood came from his mouth. His pulse in a few minutes ceased and he soon died.'
Someone had sent for a surgeon, Mr Lynn of neighbouring Great George Street, but by the time he arrived it was too late. It is highly unlikely he could have done anything for Perceval in any case. The musket ball was so large it had passed completely through Perceval's heart, making him the only premier in British history to be assassinated in office.
Downstairs in the lobby, meanwhile, about 30 or 40 people had gathered at the scene having heard the pistol's report. All of Parliament's doors had been locked to prevent the gunman escaping. But there was no need. The assassin, having discharged his shot, had walked calmly back to the fireplace and sat down again.
As the contemporary journalist Edward Baines noted: 'When a spectator at last exclaimed "Where is the villain who fired?" a person, who had remained unobserved, stepped forward, and coolly said "I am the unfortunate man."' He was seized and his pistol was taken.  Another pistol was also found on him, primed and loaded, presumably in case the first had misfired.
The man who pulled the trigger had handed himself and in a typically British way, immediately apoligised for his actions but who was really behind it? The luddites? The radicals? A shadowy conspiracy of wealthy businessmen? Within an hour a mob has descended upon parliament to cheer the killing, troops are deployed on the streets, and the Prince Regent has fled to Brighton.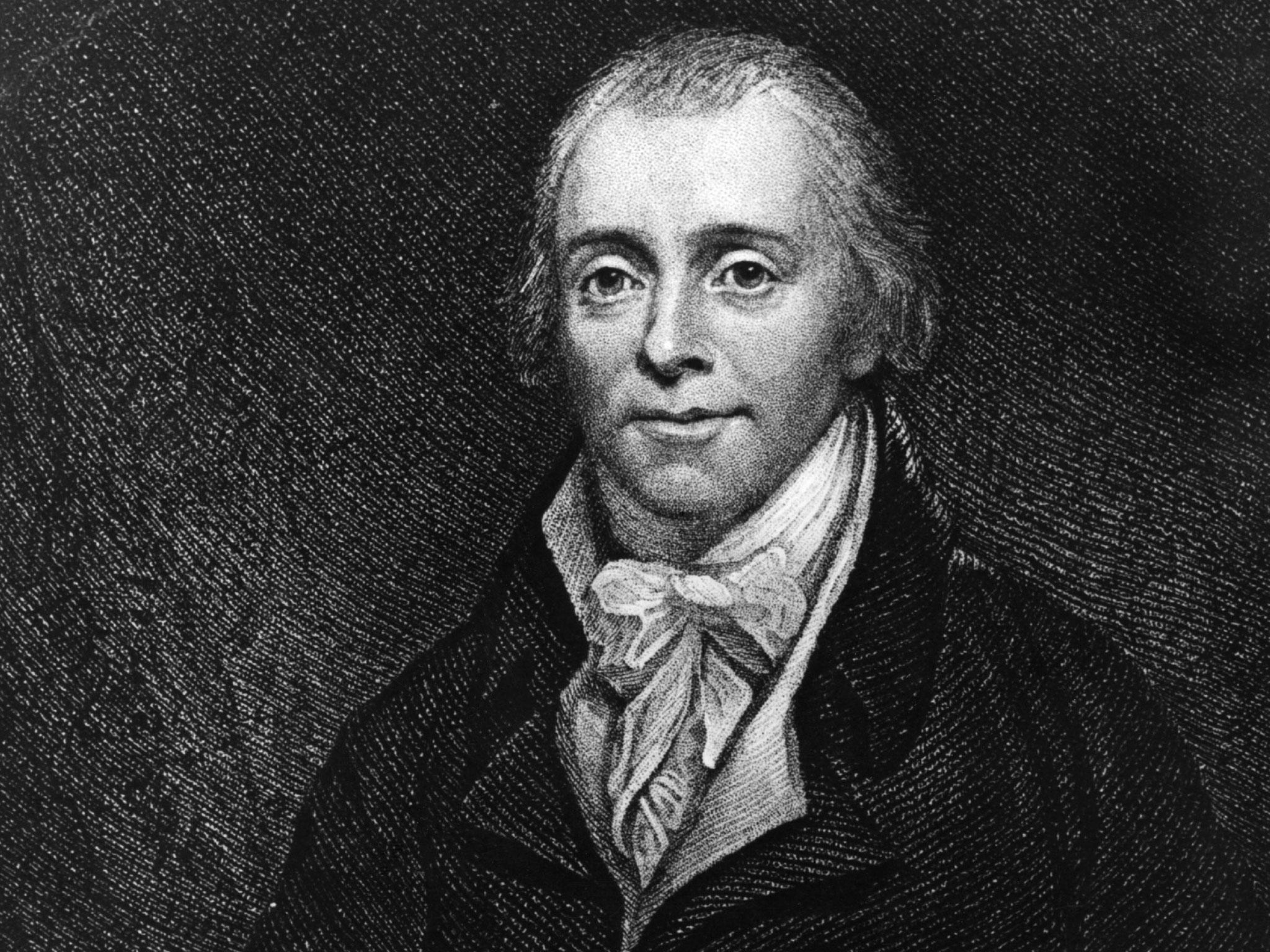 This was Britain's first great national newspaper story – a tabloid whodunnit. But that same evening the carriages carrying tomorrow's editions are halted on their way out of London, as the government cracks down on the disorder. The revolution has been stopped in its tracks. The government breathes a sigh of relief.
Except there was no revolution to begin with. The "criminal mastermind" at the centre of it all was a failed businessman named Henry Bellingham, who blamed the prime minister for the £7,000 he had lost as the result of a debt dispute in Russia. There was no grand conspiracy, no higher motive, no grassy knoll, no second shooter, just an unhinged individual who believed he had been wronged and that the prime minister, as representative of the British state, should bear ultimate responsibility.
At his trial at the Old Bailey just a few days after the crime, 35-year-old Bellingham revealed that he had harboured a grievance against the British government because, while working in the city of Archangel in Russia, in 1804 he was imprisoned for around four years as a result of his involvement in a shipping dispute.
The British ambassador in Russia, Lord Granville Leveson-Gower, failed to come to his aid, although the charges were almost certainly trumped up.  Bellingham was a British subject, falsely imprisoned, his life in danger. Yet the British embassy ignored his plight, leaving him to rot for nearly six years in a rat-infested cell, surviving on bread and water.
Unsurprisingly, when he was finally released in 1809, Bellingham was imbued with bitterness against the Foreign Office, and the government as a whole, who had abandoned him to his fate. During his time in prison his business had collapsed and he became bankrupt. For more than two years he petitioned the Foreign Office, demanding financial compensation from the government for failing to support or repatriate him. But his pleas were ignored or rejected . In desperation he visited the House of Commons and hung about the lobby where he would accost MPs and ask for their help, but few bothered to listen to him, let alone help him. He is thought to have approached Spencer Perceval several times but Perceval, a busy man, did not stop to listen to him.
Snubbed, frustrated, desperate and obsessed at what he saw as his betrayal by the highest in the land, Bellingham began to harbour thoughts of revenge.
In March 1812 he told police magistrates that, if he was again refused help by the government, he would 'feel justified in executing justice myself'. They ignored him. After petitioning the Foreign Office for a final time in April 1812, Bellingham began to plot Perceval's murder. He acquired the pair of pistols and asked a London tailor to make a secret nine inch-deep pocket in his overcoat where he could conceal them.
Then he went to Parliament and lay in wait.
Straight after the murder Bellingham was arrested and held in the parliament prison cell. Within a few hours he was transferred to Newgate Prison.
His trial, on May 15, was a swift affair. The jury took just over ten minutes to find him guilty. He was sentenced to death by hanging, and executed publicly in London on May 18, only a week after the crime.
While Perceval's family had seen justice done, his death left them almost destitute. Although Perceval was the younger son of the Earl of Egmont he had not been a wealthy man. On his death it was discovered that the 49-year-old had only £106 5s 1d in the bank, so parliament voted to award his 12 surviving children, a grant of £50,000 and an annual sum of £2,000 to his widow. His eldest son, also called Spencer, was given £1,000 yearly.
Perceval's official title was First Lord of the Treasury – the title of Prime Minister was not then in use – and although not an outstanding premier, he was a competent, decent man who had steered the country through the upheaval of the Napoleonic Wars abroad and social instability at home brought on by the Industrial Revolution.
After his murder public monuments to him were erected in Northampton, his parliamentary seat; at Lincoln's Inn, where he was called to the bar in 1786; and in Westminster Abbey.
His friends – among them William Wilberforce, the anti-slavery campaigner – wanted to erect a monument to him in the House of Commons, but some members of the Whig party opposed it and in the end nothing was done.
Indeed, Spencer Perceval's story has been more or less erased from British history. There's no grand memorial to him. There's a statue of him in Northampton, and they've turned four floor tiles the opposite way at the spot he fell in Parliament. And that's about it. We know more about the murders of JFK or Abraham Lincoln than we do about our own prime minister. Why has Spencer's story been so readily forgotten?
Perhaps it is because as a people, we British don't really go in for political killings. Spencer Perceval is the only leader ever to be murdered in office. Haiti has had two, the USA four. Columbia has nine which all seems very incomphrensible to us.  We're more likely to complain and put up with everything that is wrong or inefficient at least to a certain extent people or issues are left ignored for too long and then we end up with things like the Peasants Revolt, the Peterloo massacre, the poll tax riots and Brexit.
I'm not sure he or Spencer Perceval would be very impressed 200 years later to find people respecting opposing points of view less than ever rather than flailing around terms such as 'Nazi', 'Racist' or 'Traitor around.