A few days ago I posted on the discovery of Endurance, a ship used by the legendary Ernest Shackleton during the last great Age of Discovery. Whilst it may be forever difficult to visit that vessel, there is a small part of the last ship that Shackleton sailed on that is easier to visit, if not to always to find.
One of my favourite objects in London is the large, old barrel fitted with several metal uprights and a spliced piece of rope threaded through them which normally lives in the Crypt Museum at All Hallows. The crypt lies deep beneath the church and is home to an absolute wealth of artefacts from 2,000 years of local London history.
This barrel is actually Shackleton's Crow's Nest from the ship the Quest, the one Sir Ernest Shackleton used for his third and last Antarctic voyage in 1921 and 1922. On 17 September 1921, having been fitted up in St Katherine's dock and formally inspected by King George V, the Quest sailed past All Hallows church and through a raised Tower Bridge to begin her voyage south. Thousands of well-wishers lined the riverbanks and the bridges to cheer her on her way.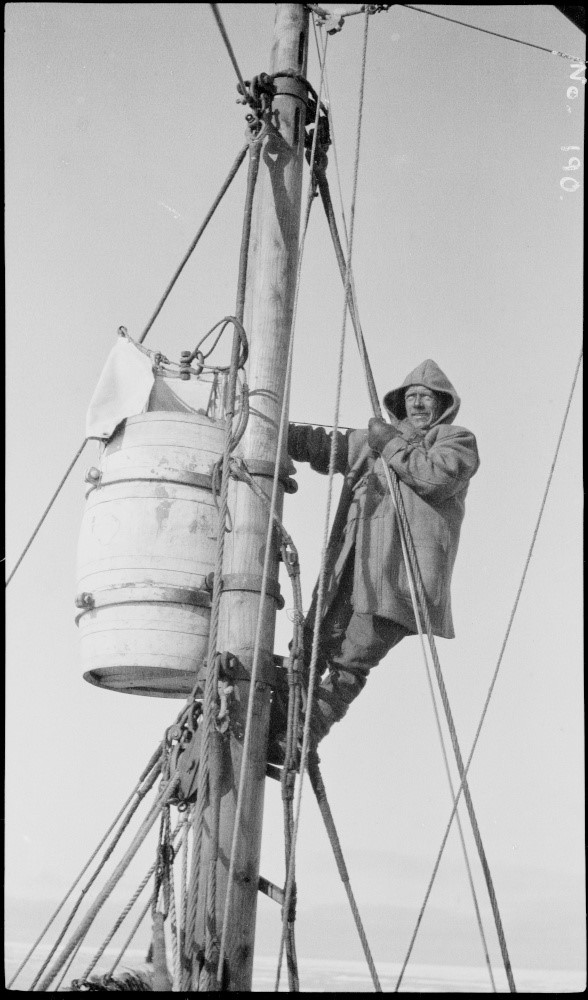 Sadly Ernest unexpectedly suffered a fatal heart attack near Antartica and was buried on the island of South Georgia and for the next few months that is where you will be able to find the crows nest..
The 'barrel' travelled first to Shackleton's birthplace at Athy in Ireland to be reunited there with Shackleton's specially built deck cabin from the Quest. These two items are now the only surviving pieces of the ship and it will be the first time they have both been in the same place since the end of the original expedition.
The the Crows Nest went via Southampton and then cross the globe by sea once more, to South Georgia for an extended loan to the museum there. Shackleton enthusiasts from all over the world who are celebrating the centenary are thrilled that it will be in the Southern hemisphere once more.
The whole project has been almost three years in the planning and everyone involved is delighted to be able to show one of All Hallows' treasures to a world-wide audience in this way. Visit the on-line exhibition HERE for lots more information!
However the Crows Nest will be back home in All Hallows Church by the Tower of London soon enough and having gone the best part of 3 years without catching a glimpse of it, I will be all to keen to see it again. You can also see it on on one of my wonderful off-beat tours.
I've written before about the wonderful church of All Hallows and you might like to read and see a little of the Ceremony of the Rose.