Sometimes when I am out and about in London I find that for a few days or even weeks my paths cross with that of a famous or historical figure on numerous and sometimes unexpected occasions and recently I have been bumping into the romantic poet John Keats who died just over 200 years ago.
On Good Friday I was taking two people from Israel on my first ever Hampstead Village Walking Tour which went fantastically in the warm sunny weather and we paused for a while at the beautiful home of John Keats as well as seeing his memorial in a local church.
Despite tragically and in a way romantically dying at the desperately young age of 25, Keats has long since been celebrated for works such as Ode to a Nightingale and To Autumn.
For some reason it is often assumed that those interested in sciences and the arts can never really mix. I've never held that opinion myself having worked in engineering organisations before doing what I truly enjoy doing. I am just following in some well-worn footsteps however as few people are aware that before Keats focussed on poetry, he spent several years training to be a doctor.
Whilst waiting for a tourist to arrive for a Charles Dickens Tour I decided to explore some of the alley ways that branch off Borough High Street in a more thorough fashion than I'd been able to but typically I didn't get past the first alley as my noise for history and seeking out quiet spots led me down an at times not altogether friendly route to the back of Guy's hospital where amongst an absolute horde of memorials to doctors, scientists and world-changing discoveries I came across this lovely little statue of John Keats.
Some of the great old London hospitals have an incredible amount of history which from time to time I go and have a nose around (Coronavirus Diary – Social distancing on the battlefield with King Cassivellaunus – kicker of Roman ass!) but of course one has to be respectful of the staff and patients present and as in the case here with two large Covid testing centres about 10 seconds walk away, a little careful for oneself.
This statue of Keats sits in an alcove outside Guy's hospital because he worked and studied there. He was only 14 (as was the norm in the early 19th century) when he was first apprenticed to a suburban apothecary, the equivalent of a GP. He later moved to Guy's to undertake further training under the legendary surgeon Astley Cooper.
Keats was once assumed to have been a dreamer uninterested in his medical studies. Recent research by scholars has shown, on the contrary, how successful and focused he was at Guy's. He passed an exam that many of the students failed and was appointed to the coveted position of "dresser". That not only involved assisting more experienced surgeons in operations but also being on duty 24/7 one week in four in the equivalent of A&E.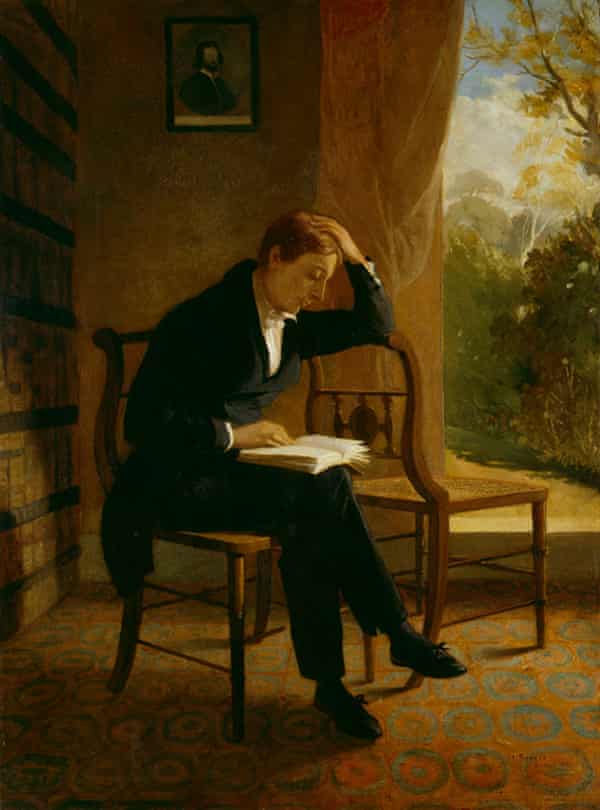 Surgery in the period was brutal. There was no anaesthesia save alcohol and opium. Dressers' duties included holding down patients during operations and disposing of amputated limbs. Keats was highly sensitised and empathic to others' pain, but the record shows that at Guy's he was also capable of calm professionalism. In March 1816, for example, he saved the life of a woman called Jane Hull who was brought in with a bullet wound to the head and neck, having been shot by her jealous husband while standing at the bar of the Prince Regent pub. Keats, aged 20, successfully extracted the pistol ball, which he went on to produce in evidence during the resulting court case.
Imagery drawn from the human body abounds in Keats's poetry. When he used the metaphor of a "naked brain", he knew what he was talking about; he had actually seen one in the anatomy room. He also had intimate knowledge of the limitations of 19th-century medicine, having been a witness to the harrowing deaths of his mother and brother from tuberculosis. That same disease later killed Keats himself, in Rome, where he had gone in the vain hope that the Mediterranean climate might assuage his symptoms. Keats's poetry is often regarded as the ultimate expression of the Romantic imagination, but far from representing escapist fantasy, it acknowledges "the fever, and the fret" of human suffering without denial or easy answers.
The alcove that his statue is seated in was actually rescued from old London Bridge.
If you're into the history of medicine and social welfare then you might like to try out my London's Millennia of Progress: A Medical History of Bodysnatchers to Vaccines! which passes very close to this statue and I am sure a diversion can be arranged! Whilst nearby is The Statue of King Alfred The Great that isn't all it might appear.